Top IT Skills in Demand in 2021-22 for fresher job in Ahmedabad
Posted By:ExcelPTP
July 12,2021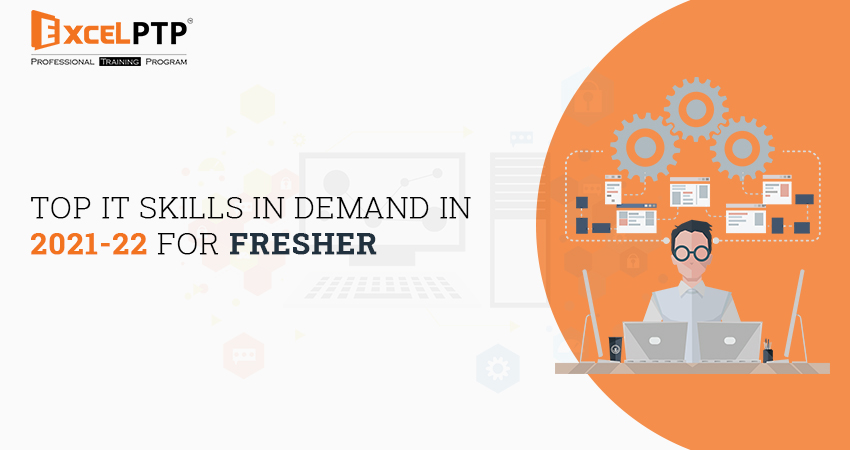 Approx 75% of the global digital talent is in India, making the country a hub for IT services. The core capabilities and strengths of the workforce have also brought significant FDI inflows. From the industry point of view , leading tech firms are advancing their R&D efforts and innovation to create differentiated offerings. And major government initiatives are providing a much-needed impulse to the industry.
Therefore, the demand for skilled professionals and specialists is on the increase . In this article, we will be discussing IT skills every tech specialist should learn.
Top 15 IT Skills Every Tech Specialist Should Seek for upcoming Year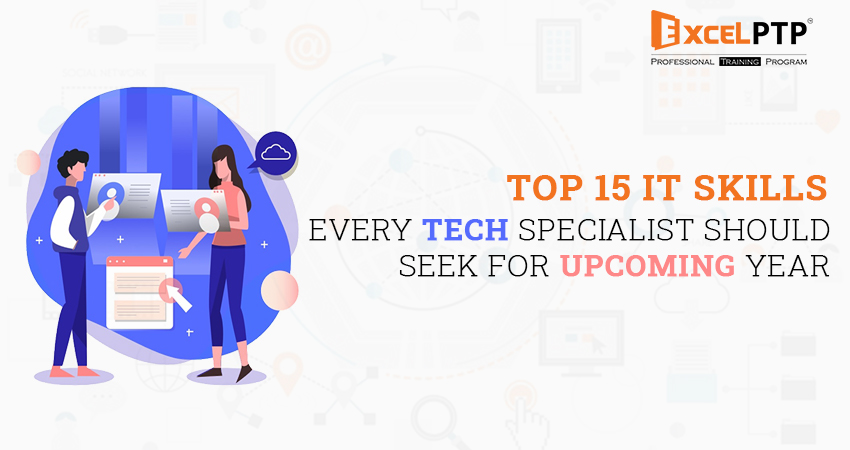 1. Career in Machine Learning
There are many skills that fall under the description of machine learning. IT professionals should appear with software engineering, system design, computer science fundamentals and programming. These capabilities support IT professionals finding patterns in data.
2. Career in Artificial Intelligence
To bolster artificial intelligence (AI) skills, which are key this year, IT specialists should seek knowledge of programming languages and data engineering. Also, learning about natural language processing (NLP), a wing of AI, will also be helpful to IT professionals who want to add weight to their resume.
3.Career in Cloud Computing
The COVID-19 pandemic has wreaked chaos on company finances. Cloud computing skills, such as configuration, deployment, security for cloud services, management and troubleshooting will be essential to IT professionals since cloud computing can help to scale down capital expenditures by 38%.
4. Data Science Skills
Organizations need employees who can clarify raw data and transform it into usable feedback that empowers them to design better products and services. Learning to work with an array of programming languages such as SAS, R and Python, – a data science skill – can help IT professionals do this.
5. Programming Language Skills
To say that grasping programming languages, such as Java, Javascript, C++ and Python is an IT skill currently in demand is an understatement. Every IT professional should work to enhance these top skills in 2021.
6. Cybersecurity Skills
The COVID-19 pandemic has made companies more liable than ever to cybercrime. By protecting themselves with cybersecurity skills, like risk identification and management, IT professionals can help keep organizations' sensitive data safe.
7. Big Data Skills
Big data empowers companies to figure out huge amounts of data and make better business decisions. IT skills in demand in 2021 that are linked to big data include effective problem-solving skills, data handling skills and understanding programming languages. By pursuing these expertises, IT professionals can advance their career.
8. Automation Skills
Automation boosts ability, which is absolutely what many companies need in the wake of the current global health crisis. A few automation-related skills tech specialists should explore including virtualization skills, cybersecurity skills and troubleshooting skills.
9. Structured Query Language (SQL) Skills
SQL is the classic programming language for relational databases, and it is important that IT professionals know how to structure and manage these databases. Getting mundane with SQL is the only way to do this. Those wanting to move into a database administrator role should make it their goal to learn SQL inside and out.
10. Data Analytics Skills
An IT pro well-versed in data analytics has the capability to examine raw data and reach conclusions that facilitate companies to get better business results. As a top IT skill in demand for this year, it is vital that tech specialists learn the artistry of data analytics. Advancing some of the skills listed earlier,like machine learning skills, SQL skills and language programming skills will boost your data analytics skill set.
11. Career in Linux Admin
This year, companies are depending on IT professionals to know how to operate Linux successfully. Basic maintenance, installing and configuring workstations, networking, and fathoming the Linux command line are skills tech specialists should start mastering now.
12. IT Career in Mobile Application Development
Companies are increasingly turning to mobile app solutions to expand their customer reach during the Covid-19 pandemic. Understanding application programming interface (API) development platforms and cross-platform app development frameworks enable IT specialists to support companies in developing mobile applications and design the solutions they need during this raucous time.
13. Lot of opportunity available as Software Development
Latest software is being developed rapidly to meet the changing needs of companies and their customers. IT professionals should strive to attain software development skills, such as software testing and debugging capabilities. Other skills in this family include programming language skills, user experience (UX) and DevOps skills, as well as the ability to design secure databases.
14. Any Graduate can Shine their Career as UX Design
Proper UX design can help increase productivity, decrease support costs and upgrade customer holding and acquisition. Each of these benefits is attractive to companies striving to build a healthier bottom line. IT professionals should seek UX design skills, such as knowledge of analyzing target markets, visual design skills and coding, and project management skills to enact themselves as experts in the tech industry.
15. Career as Business Analysis or Development Executive in IT
Business analysis is one of the most essential IT skills in trend this year. There are many skills linked to business analysis, including interpersonal and consultative skills, stakeholder analysis skills, and organizational and problem-solving skills. More than anything, tech professionals need a strong foundation in IT to operate in a business analysis.
Essential IT Skills to Master in this year
A survey by the Ministry of Electronics & IT and McKinsey projects India's digital economy to reach approx. USD one trillion by 2025. On the services face of the economy, the IT sector is also one of the largest patrons to export.
Moreover, the tech industry currently employs a significant lump of the country's workforce and is expected to create more jobs in the coming years.
With this, we come to an end of our discussion on the top 15 IT Skills…. Happy Learning!!
Apart from above many courses where you can make a bright career get more details by clicking on Available Course and get career related guidelines by visiting Excel PTP office near you.