Computer Courses After bcom Graduation
Posted By:ExcelPTP
February 28,2023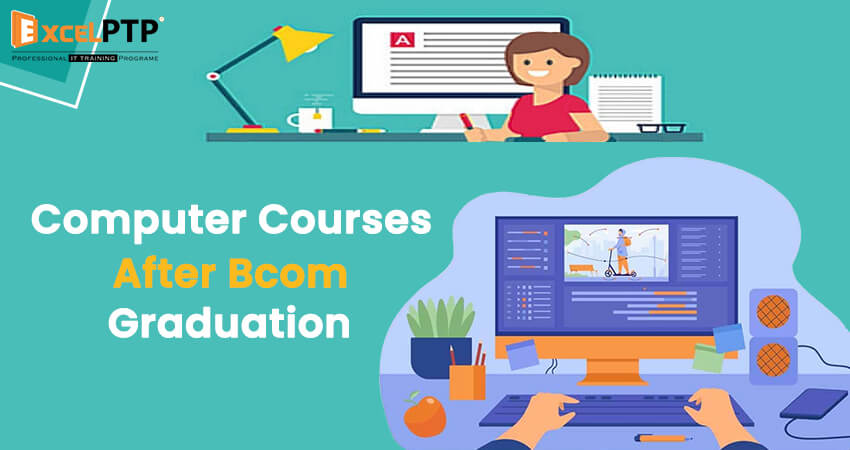 After completing a degree in commerce, many fresh graduates tend to search for jobs in the same field. However, some are interested in pursuing a career in the IT sector as software programmers or in other related fields. This is because the IT sector offers more job opportunities and promising career prospects compared to other fields.
Fortunately, for those interested in an IT career, we have some great news. Our professional programs offer 4-6 month short-term courses, which can lead to job offers in roles such as Web/Graphics Designers, HTML/CSS Front-end Developers, Software Programmers, Search Engine Optimizers as SEO Executives, or Software Bug Testers.
When choosing best computer courses after graduation in arts, it's important to consider ones that promise job opportunities. With jobs limited in the commerce sector and competition for them increasing day by day, computer courses can be a wise choice. They are usually completed in less time and guarantee easy jobs. We offer some of the best computer courses after BA, which can increase your chances of getting placed in a reputed MNC company.

Not only Bachelor of Commerce graduates, but also those with a Bachelor of Arts (BA), Bachelor of Computer Applications (BCA), diploma, Bachelor of Science (BSc), or Master of Science (MSc) degree can join our Computer IT courses.
India is experiencing rapid growth in the field of Information Technology (IT). Reports show that the revenue generated from IT exports in 2016 exceeded $150 billion, highlighting the tremendous opportunities available in the IT sector. Furthermore, an engineering degree in IT is not always a requirement for securing IT jobs, as many positions can be obtained after completing short courses lasting 6 months to 1 year. Computer courses offer many advantages over traditional courses, and with computer and internet usage increasing every year in India, learning computer courses is a smart move.
For students seeking quick employment after graduation, it's important to read this article and select a course that aligns with their interests. This confusion about which is the best computer course after Bcom can be easily resolved. There are numerous computer courses available for not only B.Com graduates but also those with a Bachelor of Arts (BA), Bachelor of Science (BSc)/Master of Science (MSc), or any other degree. Here is a list of the top 10 computer courses related to computers that you can enroll in after B.Com or any other graduation:
1) Web Designing / Graphics Designing / UI/UX Front End Developer
For individuals interested in working independently, web designing offers a great career opportunity. Web designing courses cover various aspects of creating and maintaining a website, including learning coding languages such as HTML5, PHP, CSS3, as well as software tools like photoshop Designing, Graphics Designing, AngularJS, Jquery and JavaScript, among others.

2) Software Test Engineer / QA Engineer / Quality Assurance
Learning software testing and how to find bugs using both manual and automation testing tools can be an excellent career option for anyone interested in the field. With high competition in the IT sector, there is a growing demand for skilled test engineers, and the pay is also increasing day by day. Additionally, completing this course also leads to ISTQB certification, which is highly valued globally.

3) Search Engine Optimize SEO / Search Engine Marketing / Digital Web Marketing
With thousands of websites launching each day, it is crucial for web portals to rank high on search engines like Google, Yahoo, and MSN for specific keywords and meta words. In addition to traditional search engine optimization, social media marketing has also become an essential tool for increasing visibility and reaching a maximum number of users.
The demand for SEO/SEM executives is always high as web portals constantly strive to improve their search engine rankings. Whether you have a degree in any field, you can join Excel PTP and secure a job within 6 months. With this training, you can work with reputed MNCs in the IT industry, not only in India but anywhere in the world.
There are various private institutes that provide such courses. One of them is our in-house training division called Excel PTP, which is part of a software development company group based in Ahmedabad. The course guarantees a job offer letter on the first day of joining.
How do we assist B.Com or any graduate in pursuing a career in the IT sector?
Certified, Well Experience & High Qualified Developer as a Trainer. – So can learn in a live environment.
Best Training guideline in industries and interview tips. – help to fresher for interviews
Individual Professional Corporate Level Training. – Can Focus on personally & Get Best Employee.
Basic to Advance level – give training on project bases, one – many with Developers. – No limit on learning.
No Contents / No materials / No lectures but only focus on practical things. – Real part of development
Personality Development during this training. – Additional points
100% Job Guarantees on paper on the first day of PTP training program on a special program. – Job Security with time defined
We follow up Training on Small Task, Demo and then Live Work. – Totally customize training.
**Before you join your career oriented training somewhere else visits us once so can Differentiate and take the right decision.

To know more and to take training gets inquiry by visits our office @ 4th Floor, Sunrise Avenue, Opp: Saraspur Bank, Nr. Nidhi Hospital, Stadium Commerce Collage Road, Navarangpura, Ahmadabad – Gujarat. Email: info@Excelptp.com | PH: 079 – 26400 298 / 26400 698