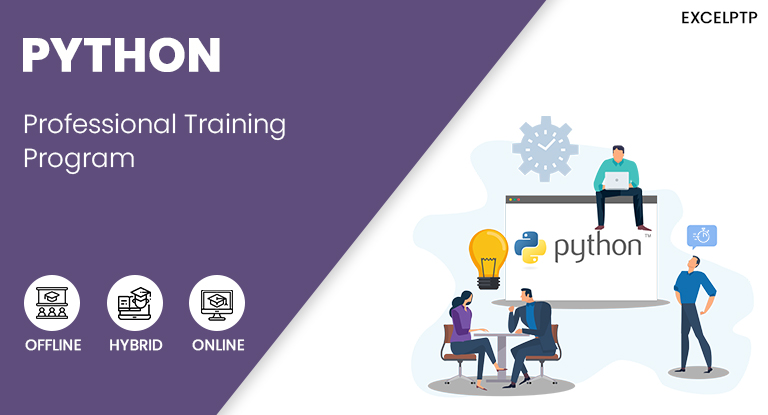 As a professional Python Training Institute in Ahmedabad, we assure to provide a python certification course specially designed with live projects and practical examples to help you master the language. We make you a tech giant with hands-on programming experience and prepare you to be a professional with a great python certification course in Gujarat.
PYTHON Course Detail
Course Level

:

Beginner to Advanced
Course Duration

:

4 Months | 8 Months
Training Days

:

Monday to Friday
Training Time

:

4 hours / Day | Regular Office Time
Course Mode

:

IN-class (Offline) at our premises
Course Type

:

JOB oriented training
Course Start On

:

On Registration | Admission
Class Size

:

1 to 1 | No Groups| No Batch
PYTHON COURSE BENEFITS
Considering is your last training: We assure for knowledge, so once your get job then your training will end.

Know your skills:Choose/Suggested a technology what you can do best.

Authenticate your skills: Entire course is on industrial practice so awarded with experience latter on placement.

Be highest paid fresher:We invented a unique model to get the job with highest starting salary, if you get good offer then US, you can join to them.

We don't bind your ability: No specific course content, learn as much as you can, beyond the topics it helps to become logically sound.
LEARN WHICH BEST SUITS YOU
No limits on learning, no limits on duration, no limits on salary, no limits on interviews, learn as much as you can & get ready for your first job.
4 MONTHS PYTHON TRAINING
(CODE :- PTP 4)
4 months training duration

Monday to Friday (04 hours / Day)

Only practical based training

Individual 1 to 1 training

Professional developers as trainer

Stipend provide based on performance

Confirmed job – on-job training program
8 MONTHS PYTHON TRAINING
(CODE :- PTP 8)
8 months training duration

Monday to Friday (Regular office time)

Live & Direct work with team.

Stipend during training, Attractive salary offer.

+Unlimited placement, Dual job opportunity.

Get your first job offer on the day of joining.

IN as fresher OUT as experienced professional developer