What after B. Tech / BE, MCA or M.sc. IT to get 100% job guarantee?
Hmm…. It's a very Difficult Questions Ever for Every IT Technical Students. I am sure 90% Final year and Fresher IT professional Student was asked this Question to theirself. Now what? What to do after my Graduation? In which Technology will move on so get good jobs in MNC with nice figure of monthly salary! : )
So my Friends let me give you solution for this Question: now days it's not simple to face competition in IT Technologies. It's huge IT Market and every want something new every day and raises his hand to be top of them.
If we go to which Technologies you need to select to making you bright Career with IT as fresher is not Microsoft Technologies, Open sources or mobile apps or others. But you need to ask yourself first are you really interested to move with programming? If so then its good else there are also a huge market on IT Companies as in Web Designing, SEO/SME , QA software Testing and BDE etc..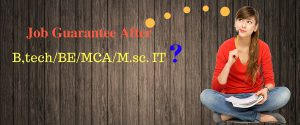 If like to move with programming only then Choose whatever you like most and your interest. But before move on once check it out current market for technologies. i mean to say demand and supply.  Once you clear this point then just move to write code for IT companies. And make yourself ready to take professional training first and be confidence as much you called yourself as professional Developer or programmer.
One more point i like to share is all technologies are good Asp.net, PHP, java, mobile app etc… but sometimes fresher are never thinking on current market and just move to learn anyone particular Technologies and then IT companies are not manage fresher and then the situation will occurs as that i did Training , i have IT Degree but i have no job : (.
Never Afraid kind of situations comes to our office or contact us and we will give all information as per your skilled and then suggest technologies, short term training courses  and jobs and we are sure that we will drawn you at the right path of your bright career with giving all answers of your questions about your career.

Moreover, for a growth your career we offers job oriented courses for B. Tech,  BE, MCA or M.sc students.  For more information you can contact us at our email Ids as: info@ExcelPTP.com .