Software Testing ISTQB Training and Certification, Ahmedabad
Overview: Excel PTP – professional Training program for Software Testing for Manual, Automation Tools, and Certification ISTQB is the one of best place for all Fresher who wanted to be a Skilled Software Test Engineer and for that IT Software Tester who want to expand their Skilled on Automation Testing tools and for those who wanted to be a Certified as in ISTQB – International Software Testing Qualification Board.
Company Introduction: Excel PTP – Professional IT Training program, a division of Amar Technolabs Pvt. Ltd, Amar InfoTech, Travel OTAs, Traveli OnBe, Travel onwards & Groups of Software Development companies. ExcelPTP Established in 2009 at Ahmedabad with vision to makes best programmers for future requirement for us. Till this date we almost hired and placed more than 2000+ Fresher across the India and Gujarat.
We will give you 100% Surety for Employment by providing job offer letter on First day of Training programs.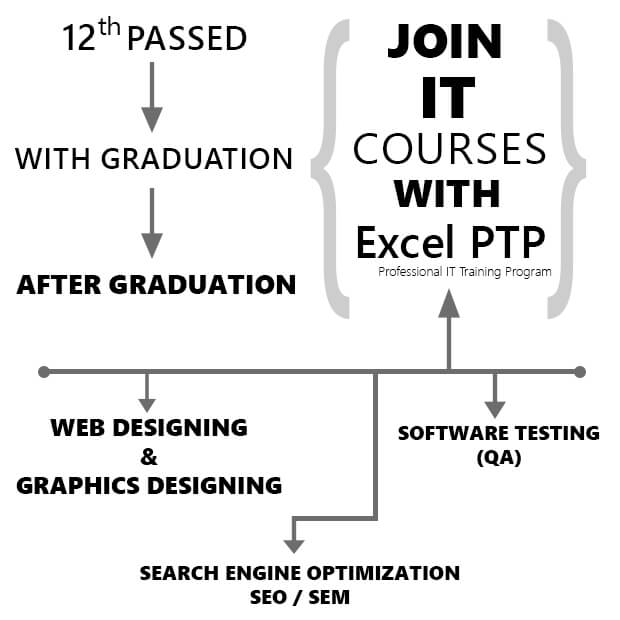 Who should attend?
The ISTQB foundation certification program is aimed at people involved in software testing field.
This include people in roles such as tester, test analysts, test engineers, test consultants, test managers, user acceptance testers and software developers who would like to appear for the ISQTB foundation level examination. And for those who are Fresher in IT Sector and not interested to be programmers for that this course will be a best opportunity to made thire future as Software Test Engineer for mobile app Tester, Game app Tester, Web app Tester, software Tester etc…
Qualification Required: Any Graduate / under Graduate – who has basic knowledge on Computers, Internet surfing, Good to understand English can also apply. And for all IT sector Fresher, Diploma holders, BCA, Bsc It, Msc. IT, MCA, BE, B Tech, M Tech would be the best for this Course – other too can join it.
Course Objectives
Understand how to successfully introduce testing methodologies in their day-to-day work
Establish testing concept, fundamental test process, test approach and testing principle to support the test objective
Design and prioritize test by using established techniques by analyzing functional and non-functional specification at all test level
Execute test as per agreed test plan
Able to analyze and report on the test results
Register and appear for ISTQB foundation level certification examination
Work on live project to better understood software life cycle for Test case and Requirements.
Getting Experience Certification once you done with course.
100% Job opportunity after this course within the company.
**Before you join your career oriented training somewhere else visits us once so can Differentiate and take right decision.
To know more and to take training gets inquiry by visits our office @ 4th Floor, Sunrise Avenue, Opp: Saraspur Bank, Nr. Nidhi Hospital, Stadium Commerce Collage Road, Navarangpura, Ahmadabad – Gujarat. Email: info@Excelptp.com  | PH: 079 – 26400 298 / 26400 698